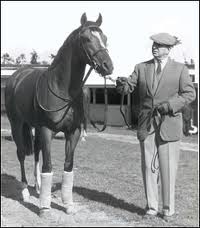 Born: February 27, 1901, Argentina
Died: December 16, 1991, Bal Harbor, Florida
Buried: Oak Hill Cemetery, Cartersville, Georgia
Married: Francis Weinman Latimer
1937 came to the US from Argentina as a horse trainer and breeder
Married to the former Francis Weinman Latimer of Cartersville, local horse training was done at Old Mill Farm in Cartersville
1980 inducted into the National Museum of Racing and Hall of Fame
Born in Argentina, Horatio A. Luro was one of nine children born to Adolfo Luro, a wealthy rancher and meat packer. Luro was educated in Buenos Aires and spent summers working with family cattle and horses. His early years in Argentina can best be described as care free with a love for polo, car racing and the ladies. His love of horse racing gradually grew as he became more involved with his families interest in the sport.
The Luro racing colors were for years the most celebrated in Argentina thanks to the success of many of their thoroughbreds. Horatio came to the United States in 1937 bringing with him four horses from both Argentina and Uruguay as he was known for favoring foreign bred horses. One brought from Ireland, Princequillo, went on to win the Jockey Club Gold Cup and sire several successful horses while also becoming a grandfather to the famed triple crown winner "Secretariat".
Known for his suave grace and flamboyant style, Luro charmed and swept the elite horse racing circuits internationally and was known as "The Grand Senor". Horatio in his 48 year career trained 43 Stakes winners and 3 Champions including three winners of the Canadian International Stakes. The year 1962 saw "Decidedly" run to a record breaking Kentucky Derby victory. In 1964 that record was broken by his best known horse, "Northern Dancer", who went on to win the Preakness and come within six lengths of sweeping the Triple Crown. Training locally was done at Old Mill Farm in Cartersville, Georgia where he and his wife, the former Francis Weinman Latimer of Cartersville, resided.
Click to enlarge.
In 1980, Horatio Luro was inducted into the National Museum of Racing and Hall of Fame. His death came in Bal Harbour, Florida December 16, 1991 at the age of 90.
---
[maxbutton id="8″]