Wofford's Cross Roads Baptist Church was established in July 1848 after a service was held in the area. The church was founded with ten charter members, and soon after accepted three African-American members. In 1849, one acre of land was donated to build a church, which was constructed in 1850. This land was donated by Thomas Wofford, the church's namesake. In 1849, the church became a part of the Middle Cherokee Baptist Association, and is still part of it today under its new name Bartow Baptist Association. In March 1879, African-Americans were granted use of the church for their services once a month. They also started hosting Sunday School in 1880.
In 1934, the congregation decided to construct a new church building, which still stands today. It was finished in 1936, using stones from the Aubrey Mines in Bartow County. It is located at 222 Old Tennessee Hwy, White, GA 30184, plotted on this map of Baptist Churches in Bartow County: https://goo.gl/maps/9uTux1G4ZvQ2. Since then, additions have been made, including an annex in 1961, a fellowship hall in 1984, a new parking lot in 1989, and a baptismal pool in 1991. There is also a cemetery on site at the church. It has been there since at least 1884, when it was enclosed with a fence. James White, the namesake of White, GA is buried there, in addition to A. W. Buford, the first pastor the church, who was buried under the location of the first pulpit where he preached. More information is available on the church's website at https://www.woffordscrossroadsbaptist.org/.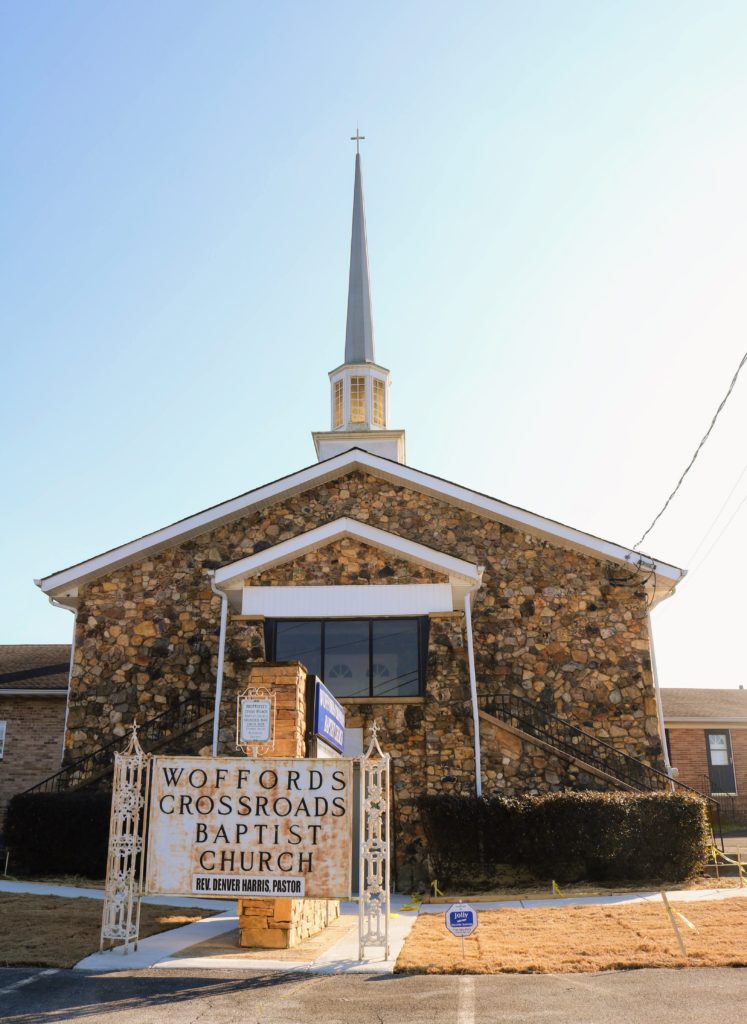 Sources
Knight, D. C. "Wofford's Cross Roads Baptist Church." Bartow County Georgia Heritage Book. Vol. 1. Cartersville: Bartow County Genealogical Society, 1995. 49.
Written and researched by Amy Young, Kennesaw State University Intern, Fall 2018.