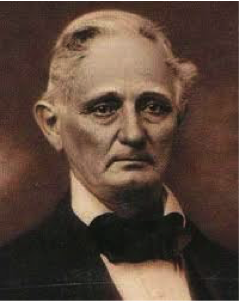 Mark Anthony Cooper (1800-1885)
Kenneth H. Wheeler – Reinhardt University
Mark Anthony Cooper, a leading nineteenth-century Georgia industrialist, politician, and civic booster, played an important role in the institutionalization of Baptist beliefs in Cass/Bartow County and more broadly. Born in 1800 in Hancock County, Cooper graduated from South Carolina College and moved to Eatonton, Georgia, in 1821, where he practiced law. A first marriage to Evalina Flournoy ended in her tragic death months later. A second marriage to Sophronia A. R. Randle produced eleven children, of whom seven died before adulthood or in the Civil War. Though he initially had a plantation in the 1820s, Cooper's interests were broad. In 1831, Cooper and Charles P. Gordon announced a railroad convention, the first in Georgia. In 1835 Cooper moved to Columbus, Georgia, where he opened a lending institution, the Western Insurance and Trust Company. The following year, Cooper became a major in the Georgia militia and fought Seminoles in Florida. Involved in Georgia state politics from the 1820s as a solicitor general and state legislator, Cooper won multiple terms to the U.S. House of Representatives as a States' Rights-oriented politician before he became the Democratic nominee for governor of Georgia in 1843. He shuttered his banking operation in Columbus, campaigned for but lost his bid to become governor, and left politics, moving initially to a farm in Murray County.
In 1845, Cooper partnered with Moses Stroup in a growing iron-making business along the Etowah River and became a key figure in Cass County. Cooper bought out Stroup within a few years and became well known for his Etowah Manufacturing and Mining Company and an accompanying flour mill that stimulated wheat production in the Etowah Valley. He built a four-mile railroad from his iron furnaces and mills to connect his industrial works to the Western & Atlantic Railroad. As the leading figure in this iron-making area, the most advanced within the antebellum Deep South, Cooper became even more prominent. Full of ideas, in 1846 Cooper founded the Southern Central Agricultural Society, an annual fair that promoted a diversified economy for Georgia and the southeastern United States.
Baptized in Eatonton by Jesse Mercer in the 1820s, the community-minded Cooper worked to advance Baptist interests in Cass County and the surrounding region, never more than when he became a leading founder and supporter of Cherokee Baptist College, named after its location in the former Cherokee Nation, and an independent Baptist association, the Cherokee Baptist Convention, that existed primarily to support the college. Founded in the county seat, Cassville, in 1854, Cherokee Baptist College schooled boys and young men, while a Methodist-supported college in town, Cassville Female College, educated girls and young women. Cooper and other prominent Baptists joined together on the board of trustees of the Cherokee Baptist College.
Beyond its immediate interest in Cherokee Baptist College, the Cherokee Baptist Convention also supported a women's college, Woodland Female College, in Cedartown, distributed Bibles and other religious writings, and beginning in 1859 supported a missionary to the Cherokee in the West. A newspaper tied to the Convention, the Landmark Banner & Cherokee Baptist, published beginning in 1859 first in Rome, Georgia, and then Atlanta into the 1860s.
Cooper, elected president of the Cherokee Baptist Convention in May, 1861, used the Convention to expound on politics. Cooper headed a special committee that produced a report that endorsed the Confederate States of America and its leadership and described the United States government as having become "a military despotism, ruled by the spirit of a mob."  By 1865, though, the disruption and fighting of the Civil War destroyed the Cherokee Baptist Convention and the schools in its care.
Cooper, like many people, was devastated by the Civil War. Two of his three living sons died, he sold his ironworks in 1862 for Confederate bonds that became worthless, and his investments in enslaved people similarly vanished with emancipation. After the war, he served on a committee that produced a report advocating that state convicts be leased to private enterprise, which the state promptly approved. Among other efforts, in the late 1860s Cooper tried unsuccessfully to build the Cartersville and Van Wert Railroad.
At the time of his death in 1885, Cooper had been one of the most important figures in the history of Cass/Bartow County and a significant figure in the history of the state.
References:
Campbell, J. H.  Georgia Baptists: Historical and Biographical.  Macon, Georgia: J. W. Burke, 1874.
History of the Baptist Denomination in Georgia.  Atlanta: Jas. P. Harrison, 1881.
Pope, Mark Cooper, III.  Mark Anthony Cooper: The Iron Man of Georgia.  Atlanta: Graphic Publishing, 2000.
Wheeler, Kenneth H.  Modern Cronies: Southern Industrialism from Gold Rush to Convict Labor, 1829-1894.  Athens: University of Georgia Press, 2021.