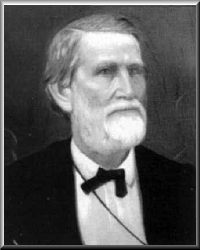 Born: October 9, 1811, Elbert County, Georgia
Died: December 17, 1877, Cartersville, Georgia
Buried: Cassville Cemetery, Bartow County, Georgia
Married: Mary F. deVerdery; Eliza Hooper
1836 Akin established a successful law practice in Cassville, Georgia and was admitted to the Cherokee Superior Court
1846 Akin argued the first five cases heard by the Georgia Supreme Court
1861 Speaker of the House for the Georgia House of Representatives
Ordained Methodist Minister who often preached to Civil War troops
Raised on a Georgia farm, Akin vowed to become a lawyer at the age of 10 after visiting an Elberton court. Following his father's death, Akin, age 18, with a limited amount of education set off to seek his fortune in the Dahlonega Gold Rush.  He would work in the gold fields for the next seven years, during which time he fulfilled his childhood ambition by reading law. Admitted to the Cherokee Superior Court in 1836, Akin established a successful law practice in Cassville, Georgia while maintaining a modest farm just outside the city. Akin was appointed colonel in the Georgia Militia and aided in the removal of the Cherokees, later confessing sympathy with their plight. He would enter into his first  marriage to Eliza Hooper in 1835. In 1846, Akin distinguished himself by arguing the first five cases heard by the newly created Georgia Supreme Court. His first wife having died in 1848, he married Mary F. DeVerdery and together produced ten children. Nominated by the disorganized Opposition party against his wishes, Akin ran unsuccessfully for governor against incumbent Joseph Emerson Brown in 1859. Akin was then selected, without candidacy, to the Georgia House of Representatives in 1861, where he was elected Speaker of the House on the first ballot. Initially opposed to secession, Akin joined the Southern cause once Georgia seceded, and in 1863, was elected to the Confederate Congress, where he represented the tenth district from 1864 until the end of the war in 1865.
Around 1870, Akin moved his family from Cassville to the new county seat of Cartersville, Georgia. A deeply religious man, Akin was an ordained Methodist Minister who often spoke at local churches and during the war, preached to troops who "thought there might be better preachers, none was louder." Akin served as a trustee of Emory College.
Considered by the Cartersville Bar "as the first man in his profession in North Georgia", Akin died December 17, 1877. Continued by his descendants, Akin's law practice in Cartersville is today one of the oldest law practices in the state.
---
[maxbutton id="8″]