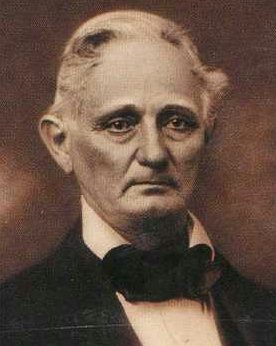 Born: April 20, 1800, Hancock County, Georgia
Died: March 17, 1885
Buried: Oak Hill Cemetery, Cartersville, Georgia
Married: Evaline Flournoy; Sophronia A. R. Randle
U.S. Congressman and Georgia State Legislator
Major in the Georgia Militia in the 1820's and 30's
1845 Founded the City of Etowah and established the Etowah Manufacturing and Mining Company on the banks of the Etowah River just south of Cartersville
Erected the Friendship Monument located in downtown Cartersville
Raised on the family plantation in Hancock County near Powelton, Georgia, Mark Anthony Cooper was educated in the local schools, attended Franklin College briefly and went on to graduate from Columbia College, South Carolina in 1919, graduating third in his class. His desire to study law took him to Eatonton, Georgia where he studied under Judge Strong, being admitted to practice law in 1821. In August of that same year he married Evaline Flournoy of Eatonton, but sadly she died four months later. Not until four years later in 1826 did Cooper remarry Sophronia A. R. Randle of Hancock County, Georgia. The two of them would have eleven children, however only seven would live to maturity. In 1828 Cooper would win election as solicitor general of the Ocmulgee Circuit. Always looking for new challenges, Cooper in 1833 organized a company for the purpose of building a cotton mill near Eatonton. A year later, Cooper sold his stock in the mill and moved to Columbus, Georgia to enter the banking business, acquiring the Western Insurance and Trust Company. During this time, Cooper was extremely interested in politics. He served as a Georgia legislator from Putnam County in 1833. He was elected to the U.S. Congress in 1939 and after losing his bid for reelection was selected to fill the unexpired term of William C. Dawson, who after being elected immediately resigned. Elected to the Twenty-eighth Congress in 1842, Cooper resigned six month later to run unsuccessfully for governor of Georgia before retiring from politics.
Cooper earned the military rank of Major for his service in the Georgia Militia between 1826 and 1829. The first 30 days of his enlistment came about as a call to arms by the Georgia Governor to stop raids by the Seminole Indians along the Georgia-Florida border. Major Cooper was reactivated in 1836 when he commanded a battalion of Georgia volunteers during the Seminole Indian Wars in Florida. He served courageously and earned the admiration of the commanding general, Winfield T. Scott. Fort Cooper State Park near Inverness is a tribute to Cooper's military legacy.  In 1931, Cooper was involved in the first railroad convention in Georgia leading to its first chartered railroad. His later initiatives in the Georgia Legislature had resulted in the construction of the state owned Western & Atlantic Railroad between Atlanta and Chattanooga.
In 1842, Cooper moved to Cass County,now Bartow County, Georgia in order to buy into the iron production operation of Jacob and Moses Stroup. In 1845, Cooper founded the city of Etowah and established the Etowah Manufacturing and Mining Company on the banks of the Etowah River near Cartersville, Georgia.  The operation soon became a massive industrial complex consisting of a rolling mill, rail factory, blast furnaces, foundry, flour mill, grist mill, saw mill, shops, warehouses, hotels, stores and a bank. Etowah's four mile rail line along the banks of the Etowah connected this industrial complex to the main line of the Western & Atlantic Railroad. Financial difficulties arose during a change in partnership in 1857, and Cooper was forced to secure a $200,000 debt. By 1860, Cooper was again financially stable, and in appreciation of those who had aided him in his crisis, erected a monument of friendship. Known as the Friendship Monument, it is said to be the only one of its kind in the world – a monument erected by a debtor to his creditors. Cooper had sold his interest in Etowah prior to its destruction by Union forces in May, 1864. In 1866, the Georgia Legislature granted a charter to the Cartersville and Van Wert Railroad. Cooper helped raise the money and was its first president. Mark Cooper, at 84, passed away at his Glen Holly home near the ruins of the town of Etowah on March 17, 1885.
Click photos to enlarge.
---
[maxbutton id="8″]