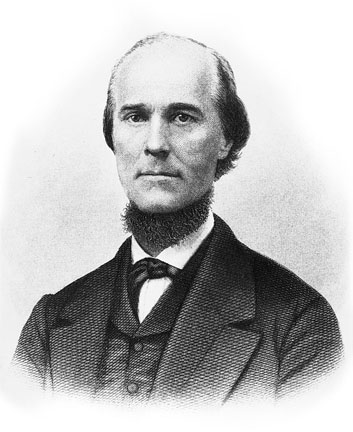 Born: April 15, 1821, Pickens, South Carolina
Died: November 30, 1894
Buried: Oakland Cemetery, Atlanta, Georgia
Former headmaster and lawyer before entering politics
1857 – 1865 Georgia's 42nd Governor
1889 Emerson, Georgia, formerly known as Stegall's Station,  is renamed in honor of Georgia's Senior Senator, Joseph Emerson Brown
Significant changes were being planned by area residents for Stegall's Station in the late 1880's. Known as a railroad stop on the Western & Atlantic Railroad, it wasn't until February, 1888, that the newspaper in nearby Cartersville, Georgia, announced that the agricultural and mining community around Stegall's was finally connected to the world by telegraph. Proposed changes involved turning this small community into a prosperous town, one that could support an abundance of manufacturing plants which could turn the numerous variety of minerals found there into finished products. The town was surveyed and investors were recruited, however Stegall's would need a new name to match the prominence envisioned. The name selected in April, 1888, was Emerson, in honor of Georgia's great senior Senator, Joseph Emerson Brown. The new town was incorporated November 11, 1889.
Young Joseph Brown moved with his family to Union County, Georgia at an early age and by 1840, had enrolled in an academy near Anderson, South Carolina. After completion, he accepted a position as headmaster of a school in Canton, Georgia.  Brown went on to study law and pass the bar, opening his office there. By 1849, Brown had entered the political arena by being elected to the Georgia State Senate, followed by his election as a state circuit court judge in 1855 and as Georgia's 42nd governor in 1857. As governor, he was a strong proponent of public schools and was an outspoken secessionist following Abraham Lincoln's election as president. Gov. Brown spoke out against the ever expanding powers of the Confederate government, being at odds with Confederate President Jefferson Davis. His sentiments put Georgia's concerns first as he opposed sending Georgia troops out of the state along with military equipment paid for by Georgia taxpayers. He also expressed concerns over military conscription by the Confederacy.
Following the war, Brown was briefly held as a political prisoner in Washington DC. Following his term of Governor in 1865, Brown was elected Chief Justice of the Georgia Supreme Court. He served until 1870 when he resigned to become president of the state owned Western and Atlantic Railroad. He was elected to the United States Senate in 1880 and again in 1885. Former Governor Brown died in Atlanta, Georgia in 1894. His son, Joseph Mackey Brown would also become Georgia governor in 1909, serving two non-consecutive terms ending in 1913.
---
[maxbutton id="8″]