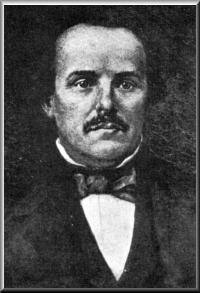 Born: September 16, 1816, Savannah, Georgia
Died: July 21, 1861, Manassas, Virginia
Buried: Laurel Grove Cemetery, Savannah, Georgia
Married: Louisa Berrien
1837 Admitted to the Georgia State Bar after attending University of Georgia and Yale Law School
1861 First Confederate officer to die in battle at the First Battle of Manassas (Bull Run)
1861 Cass County was renamed to Bartow County in memory of Francis Bartow
In the November, 1861 session of the Georgia House of Representatives, a bill was introduced to change the name of Cass County, Georgia to Bartow County in memory of Francis Bartow.  The county and county site had been named for Lewis Cass of Michigan since its beginning in 1832. Cass had been instrumental in removing the Cherokee Indians from Georgia in his position as Secretary of War in President Andrew Jackson's cabinet.  However, following Georgia's secession from the Union, Cass's outspoken support of the northern cause brought disfavor among the residents of Cass County.
Francis Bartow had a distinguished career with its roots beginning at the  University of Georgia where he graduated with high honors in 1835. Following graduation, Bartow would go on to read  law at the law offices of John M. Berrien in Savannah prior to attending Yale Law School.  In 1837, Bartow was admitted to the bar and quickly rose to prominence in local and state politics, serving two terms in the state legislature and one term in the state senate. Increasingly disillusioned with the Republicans "subjugation" of the south, Bartow became and active secessionist in 1860, delivering eloquent speeches in Georgia and elsewhere propelling him as a delegate to the Georgia Succession Convention. Elected to the Provisional Confederate Congress, he served as the chairman of the military committee. Despite Governor Joseph Brown's objections, Bartow resigned from Congress to lead, as captain, his Oglethorpe Light Infantry into Virginia in May 1861. Soon afterwards, Bartow was elected colonel of the 8th Georgia Infantry Regiment.
Bartow had often told his wife he wanted to die on the battlefield and was convinced he would fall in his first engagement. His prophecy came true on July 21, 1861 at the First Battle of Manassas  when he became  the first Confederate officer to die in battle. As Bartow lay mortally wounded on the battlefield, he was reported to have said:
"They have killed me boys, but never give up the field".
Bartow had been an admired and respected public figure in Georgia, and upon learning of his death the Confederate Congress adjourned in honor of his memory. Bartow's remains were returned to his wife, the former Louisa Berrien, for burial in Savannah with full military honors.
The successful resolution to name Cass County for Francis Bartow stated:
"Be it enacted, That from and after the passage of this Act, the name of the county of Cass be, and the same is hereby changed to the name of Bartow, in honor of the late Colonel Francis S. Bartow, of Chatham county of this State, who fell at the battle of Manassas Plains, gallantly leading his men, on the 21st day of July, 1861″.
---
[maxbutton id="8″]