The following letter to the Editor, written by J. P. Abernathy of Sherman, Texas, was originally published in the Cartersville Weekly Tribune-News on December 7, 1949. Extracted by Etowah Valley Historical Society member, Jodi Hill, whose mother was an Abernathy, it was reprinted in Vol. 1 No. 3 of the EVHS newsletter in 1992. It is reprinted here with original sentence structure and spelling intact.
Visitors may also want to read an article written by EVHS member Joe Head originally published in the Nov. 1992 EVHS newsletter offering a different perspective.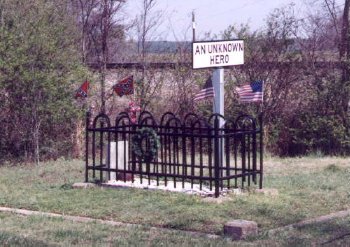 ---
Gentlemen:
In the October 20, 1949, issue of your paper, I read, with interest, the article regarding the "Unknown Hero", at Allatoona, Georgia.
I hereby wish to give you my knowledge of this Unknown Soldier: A few days after the Battle of Allatoona, a body was shipped into Allatoona, via the W & A Railway Co. There was no record as to where he was shipped from. The body was held at the Railway Depot for two days and two nights. By this time the body was in bad state of decay. The only address used was "Allatoona, Ga."
There were four of my own first cousins, Marah Hite, Nancy Hite, Rebekah Summey and Mary Smith; one second cousin, Martha Crow, prized [sic] open the home-made box to see if the body could be identified.
The Soldier was dressed in a gray uniform. There were no means by which he could be identified. A broad-brimmed black hat was rolled up and in the box with the body.
The ladies mentioned above came to my home to get maddox and shovel to dig the grave. They carried the corpse by hand sticks, through the cut, to the West end of the cut and burried him about one foot from end of the cross ties, on South side of the W & A railroad track.
About 1880, a group of surveyors came in and found the grave and having no history of the person, bought and erected the tomb stone. Immediately after the tomb was placed, my cousin, George Hanson, of Allatoona, took a picture of the grave.
I am Journey Phillip Abernathy, son of Lintford Abernathy of Bartow County, Macedonia community, Ga. I was born in Bartow County, August 6, 1858, and clearly remember the struggle through the horrors of the Civil War.
Yours very truly,
J.P. ABERNATHY
418 S. Montgomery
---
For more information about this historic battlefield, see: