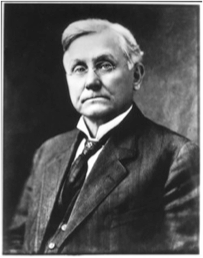 Cartersville's connection to the Coca Cola empire is little realized and only briefly mentioned in the History of Bartow County by Lucy Conyus. However, the corporate founder of the soft drink giant can be soundly traced to Bartow county.
Although not a native of Bartow County, Asa Candler moved to Cartersville from Villa Rica in 1870 to become a prescriptionist.  He apprenticed under Dr. Best and Dr. Kirkpatrick who had a joint apothecary on West Main Street for three years. It is said he slept on a cot in the back room of the store. Asa also continued his formal education under the direction of Reverend S. G. Hillyer's Male School where he enjoyed studying Latin, Greek and reading medical books.
Contrary to mythical stories, Asa did not study at the legendary Young Brothers Drug Store located on the corner of West Main Street and the Western and Atlantic Railroad on Public Square across from the depot. The Young Brother's building was not built until 1881 well after Asa had moved to Atlanta.  Research indicates the apothecary owned by Doctors Best and Kirkpatrick was most likely located further west on Main Street in the vicinity of Main between Erwin Street and the old First National Bank. His obituary indicates his training occurred in the former Gilreath/Champion Drug Store front near the railroad.
Little known is that his sister Florence Candler Harris had earlier married a local attorney and moved to Cartersville.  Eventually, after the passing of his father in Carroll county his mother and younger brother joined Florence in Cartersville. Asa also met his future wife Lucy who was also from Bartow county. Many of his family are buried in the City's Oak Hill Cemetery.
It also should be clear that Asa Candler did not invent the mysterious secret syrup of Coca Cola drink. The syrup was the innovation of Dr. John Pemberton originally from Columbus, Georgia following the Civil War. Dr. Pemberton was a surgeon and pharmacist who experimented with recipes for medicinal elixirs. Unfortunately, he did not have the health and business talent to fully bring the drink to market.
Following his apprentice training, Asa Candler moved to Atlanta and went to work for Mr. George Howard, the father of his wife Lucy. Some years later he eventually purchased one of Mr. Howard's drug stores and began his entrepreneurial career. He met Dr. Pemberton and saw the potential in the Coca Cola beverage as a soft drink that could be served as an over- the- counter refreshment. He eventually bought all the stock and rights in the beverage and thus began the soft drink industry that we know today. Under his genius and business mind, Asa Candler, former resident and student of Cartersville, came the world's largest soft drink industry.
To read more about Asa Candler in Cartersville visit: https://evhsonline.org/archives/43069