April 2020                         by  Debbie and Joe Head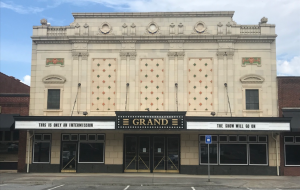 In 2020, Bartow County, along with the rest of the nation, added a chapter to our local heritage as the community navigated its way through the COVID-19 pandemic. This article is intended to provide a snapshot of the health data for the county and activities that seemed to demonstrate a variety of ways of coping with the pandemic and not to draw conclusions or outcomes. The period observed was from March 7 through April 30, 2020.
As the photograph of the Grand Theatre marquis states, "This is only an intermission, the show will go on," says it best. This article is written as testimony of how Cartersville and Bartow County co-existed with COVID 19.
At the close of 2019, the world was first alerted of an obscure viral threat emerging from Wuhan, China. Early reports suppressed the potential of this virus becoming a pandemic, but by the end of January 2020 the reality of a global plague became real and dangerously present in Bartow County. The world was in an official pandemic. The first countries hardest hit were China, Italy, Spain and eventually the USA. No hemisphere was exempt from some degree of infection and death.
FOLLOWING THE DATA
 The following is an informal graphic and snapshot of the daily impact the epidemic had on Cartersville and Bartow County. It is important to remember how this novel virus specifically unfolded and affected our community regarding daily life. Perhaps even more vital were the pace, number of cases, confirmed infections and deaths in relation to state and national morbidity comparisons.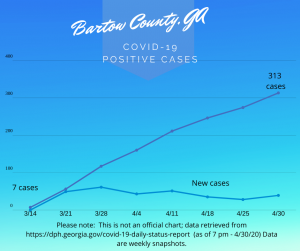 It is imperative that local pandemic data be tracked and recorded even if only as an anecdotal reference for archival purposes. This work is intended as an informal attempt to document Bartow's COVID 19 experience including data and narrative that describes the times as they unfolded.
The first diagnosed case of Bartow COVID-19 appeared at the Cartersville Medical Center around March 11 and was traced to a choir celebration held at the Church at Liberty Square on March 1 and March 8. Soon other cases surfaced from the same event. Even local state legislators were infected with the virus and were quarantined, one in a hospital; the other at home. Bartow jumped out early in the state's statistics ranking in the top three counties regarding cases for the first month as reported to the Georgia Department of Public Health. Locals quickly realized that we were truly "in this together" if we were to avoid wide spread fatal consequences.  As a result, citizens willingly sheltered in, practiced social distancing, disinfected and took other precautions to overcome the spread.
The occurrence of new cases reported daily was a continual warning and metric with which local leaders made their decisions.  New cases reported in Bartow County are reflected in the chart below. Data reflected on a Saturday to Saturday basis over a 6-week period shows the number positive cases that were reported to the Georgia Department of Public Health.
FLATTEN THE CURVE ACTIONS
As the county and state saw an increase in confirmed cases, medical officials began to recommend preventative measures to slow the spread of the virus. At first schools, churches and theaters were asked to voluntarily close. As the virus took a deeper hold, local officials and the governor announced further measures mandating the closure of non-essential businesses and insisting the public limit social contact, trips to stores and begin to self-quarantine.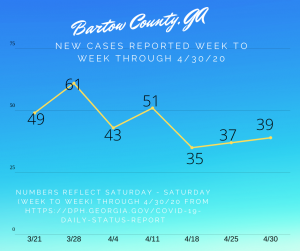 Eventually, Governor Brian Kemp, Bartow county commissioner Steve Taylor and Cartersville city mayor Matt Santini announced a shut down for 30 days and extensions were possible as information from state and federal data were provided. The county issued a shelter-at-home recommendation around March 12. (The state's shelter at home regulation began on April 3, was scheduled to last through April 30, with an extension to May 13 for seniors and those with comprised health issues.)
Social distancing (physical separation) of at least six feet became the standard between individuals. As the federal government and state officials debated best practices to suppress the virus, much confusion existed within the community on how to cope. The question about the efficacy of the public wearing facial coverings became a heated issue among health professionals and the laymen. Approved personal protective equipment (PPE) such as medical gowns, gloves and masks were in acute short supply. Officials did not want citizens rushing to buy up vital supplies that were critical to health care personnel.
LIFESTYLE CHALLENGES
 Soon local citizens began to feel the weight of the shutdown. Sheltering in became restrictive, boredom set in for many and cabin fever soon surfaced among all communities. Restaurants were closed to in-store dining; barbers and salons were closed; gyms, schools, churches and theaters closings were extended; and local businesses such as bakeries, banks, garages and grocery stores reduced hours. Stores often provided antibacterial hand sanitizers or wipes at the counters.  The price of gasoline plunged to historic lows as a result of a reduced need to drive and an unexpected crude oil dispute between Russia and the Middle East.
Bartow citizens soon began to respond and adjust lifestyles to accommodate the mandates and avoid possible infections. Senior citizens took the threat more seriously as they were at greater risk and lived in a self defined "protective bubble."  Downtown traffic became noticeably thin throughout the day. People were discouraged from attending group events, funerals, weddings, parties or workout classes. Such events found alternative means to deliver programs via internet streaming content, drive by birthday celebrations or simply postponing the program.  The local museums offered virtual tours via YouTube and online art classes through Facebook Live.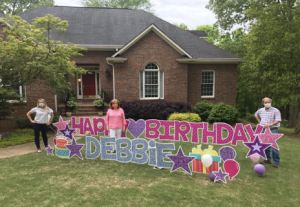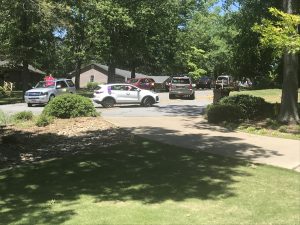 Locals stepped up to the challenge and found alternatives to a former normal and began a new normal of living. Many people tackled delayed tasks at home and started cleaning out garages, closets, attics, storage buildings and doing yard work chores. Goodwill announced that they would be closing until further notice as they had accepted all the donations possible for their capacity.
Fast food drive-through models were adopted by unexpected businesses. Some full service restaurants made the decision to close, but others chose to offer call-in and delivery or carry out service to keep employees in place. Eateries without drive through facilities such as Bobby's Burgers resorted to 1950's Happy Days curb service hiring cooks, curb hops and taking orders at the car. Firehouse Subs cleared dining tables and posted signs to respect social distancing. Longhorn and Applebee's restaurants set up curbside pickup stations.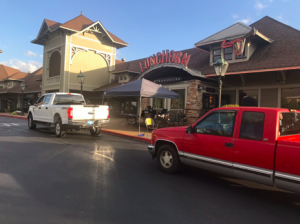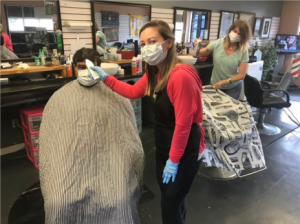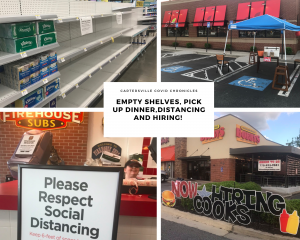 Delivery services as Doordash and Instacart saw a spike in business by shopping at grocery stores such as Ingles and Publix and food delivery from restaurants. Grocery stores offered on-line ordering service with delivery, parking lot pick up and senior shopping hours. The Cartersville Country Club kept the golf course open and offered a daily menu for pick up to its membership.
Proud parents celebrated curbside "in-abstentia"  graduation tributes for the senior class of 2020.  While other parents reached back to pioneer days and learned to "home school" their children first hand around the kitchen table, but enjoying the convenience of modern technology.  Military fly overs saluted our health care professionals at the Cartersville Medical Center by Blue Angels and C 130's.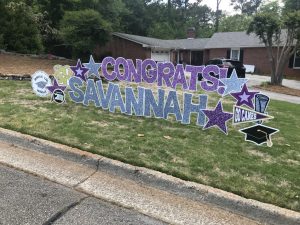 C 130 flyover at Cartersville Medical Center
County Commissioner Steve Taylor and Cartersville Mayor Matt Santini paused to honor doctors, nurses and staff at the Cartersville Medical Center on May 12 for their courageous service during the coronavirus pandemic.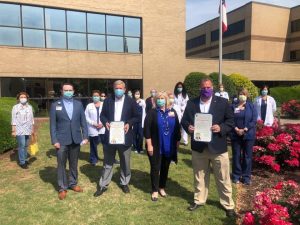 Covid test nasal swabs
Using a drive through model, Bartow County Health Department conducted COVID 19 tests at the Clarence Brown Conference Center.  
4 Way Lunch, Ross's Diner and other family owned business shifted to serve pick up meals to go.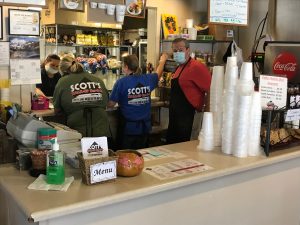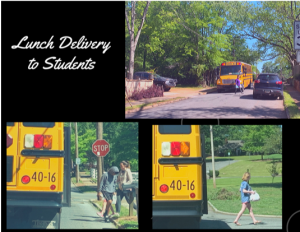 Public schools continued to provide the lunch program and bussed meals to the established bus stops for student pick up. Most churches such as Sam Jones Methodist, Crosspoint City and others began to deliver weekly sermons via on-line video on social media sites and their own websites. The practice of home – schooling rose in families as local schools were forced to offer on-line alternatives to the students.  Stories of teachers doing motivational drive-bys to student homes were posted on social media sites.
People began to sport homemade facial masks if they visited stores, banks, post offices, etc. Churches such as Ascension Episcopal and First Presbyterian offered daily drive by pick up meals for those in need.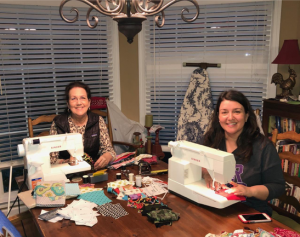 Being homebound, people began to binge watch Netflix, Hulu and other streaming options. Many streaming services provided free programs to children and families including educational, physical activities, cooking and gardening advice to help keep viewers entertained.  As a substitute to personal face-to-face visiting, locals including senior citizens began to use Zoom, Skype and Facetime to connect with friends, families and conduct work meetings. Online tutorials offered locals tips on sanitizing goods, instructions on proper handwashing procedures and hygiene practices. Stores most often ran short of a few staple products that frequently included: toilet paper, ground beef, sanitizing wipes and bread. Many residents stepped up to sewing homemade masks and others volunteered to work in church soup kitchens or run errands for the elderly.
Locals tuned in faithfully (at least for the first couple of weeks) each afternoon to watch the president's daily Coronavirus briefing. These briefings would last from one to two hours and covered details about the nation's infections and deaths. Much of the coverage was focused on New York which became the COVID 19 national epicenter. The President and his advisors discussed the state's needs for respirators, protective gear, beds, COVID testing, capacity and testing kits. Slowly his medical advisors, Dr. Fauci and Dr. Birx rose to the level of "folk heroes" as they fielded questions and brought some sanity to the crises. Their trusted voices clearly guided the nation and added confidence to how America should respond to the crisis.
Local radio and Atlanta TV stations aired special briefings. Sirius/XM satellite radio launched a 24/7 dedicated Coronavirus channel that show cased various experts, doctors, scientists and personalities that offered assessments, advice and commentary. 
Like other states and communities, locals began to lose jobs, unemployment claims spiked, small business owners closed down entirely or scraped by with reduced hours and services. Large chain stores such as Home Depot, grocery store chains, carpet mills, Anheiser Busch continued to operate, but smaller businesses such as downtown Cartersville clothing and home decorator boutiques, salons, diners and museums either entirely closed or attempted to migrate business to online options, phone calls, curb pickup and porch delivery.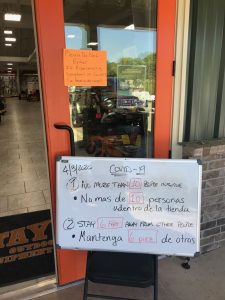 Many locals tried tirelessly to understand the data, charts and briefings in order to compare what was happening in Bartow and what may be coming. The media was centered around the pandemic and devoted the bulk of coverage to breaking news that dealt with how people were coping to flattening the metrics curve. Much attention was given to how individual states and governors were lobbying for medical resources to serve respective state populations. Governors pleaded for respirators, test kits, protective medical gear and field hospital bed space on a daily basis.  Many newscasters declared the virus as an invisible enemy and coined the President as a "War Time President" against an invisible enemy.
But ironically, the Cartersville Medical Center was not over run and the cases were managed most efficiently. A triage tent was set up in front of the hospital to deal with an anticipated on-slot of infections, but it really never happened. Due to a lack of need the tent was dismantled before the Governor announced a soft reopening of business on Friday, April 24.
SOCIAL MEDIA EARNED ITS ROLE
 Not only did social media help keep us connected, but it revealed how quarantined time was used and enjoyed. Locals posted projects, hobbies, games, cooking and other pastimes that filled the day.
Examples of how people shared what their quarantine activities included are reflected below with screen shots from one Bartow County resident's Facebook page with the names redacted.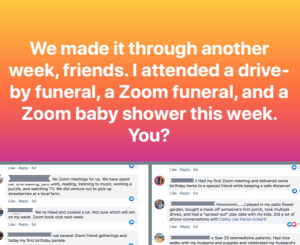 Summary Statistics
 The first death in Bartow County was reported on March 28.  That number has grown to 30 at the time of writing this report and represents 10 % of the number of positive cases while the average in the state of Georgia was at 4% of the cases reported. It seems Bartow in the early stages of COVID-19 was a super-spreader hot spot.  With mitigation measures, however, the county was able to slow down the spread.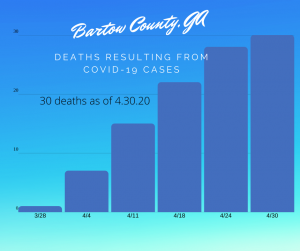 As of Wednesday, April 29, 2020, Bartow lost 30 individuals to this invisible enemy.  According to WSB-TV Atlanta television station at the 4/24/20 4:00 pm news report, 19 (63%) of the 30 deaths were nursing home or assisted living center residents.  To combat the continuation of the high incidents of death, the National Guard was called up to help Georgia and Bartow County with cleaning facilities and education of workers as needed.  (WSB-TV) (The Daily Tribune, April 30, 2020)
| | | |
| --- | --- | --- |
| Data as of April 30, 2020 at 7 pm | Georgia | Bartow |
| COVID-19 Confirmed Cases: | Total No. Cases (%) | No. Total Cases (%) |
| Total | 26,264 (100%) | 313 (100%) |
| Hospitalized | 5,190 (20%) | 119 (38%) |
| Deaths | 1,132(4%) | 30 (10%) |
Conclusion
It is critical that we document and remember our local history for the benefit of future generations. This chronicle has been prepared as a real time reference for a quick look back when Bartow experienced its second pandemic and as a convenient measure for what may follow in coming months or years. Will we have a second COVID wave as with the Spanish flu, and if so, what have we learned?
NOTE: For a comparison to Bartow's first pandemic see the article on Bartow's 1918 Spanish Flu COVID-19 Not Bartow's First Social Distancing Epidemic
Bibliography
Georgia Department of Public Health. Daily Status Reports:  https://dph.georgia.gov/covid-19-daily-status-report
Sasso, Michael & Newkirk, Margaret  April 24, 2020 Reopening a small corner of the U.S. in shadow of virus death   https://www.bloomberg.com/news/articles/2020-04-24/georgia-county-steels-itself-to-reopen-despite-10-death-rate
Staff Report (2020, April 22) Feelings mixed on reopening of businesses. The Daily Tribune News
 Staff Report (2020, April 30) End nears for shelter-in-pace order, extension undecided. The Daily Tribune News.
Swift, J. (2020, April 19) Agencies present conflicting data on senior care COVID-19 deaths. The Daily Tribune News
 Swift, J. (2020, April 25) CMC CEO says hospital hit COVID-19 peak 2-3 weeks ago. The Daily Tribune News
 Swift, J. (2020, April 26)  Bartow's COVID-19 death rate almost doubles national averages, but questions arise over figures.  The Daily Tribune News.
 Swift, J. (2020, April 26) The First Line, infectious disease specialist recounts confronting COVID-19.  The Daily Tribune News.
Swift, J. (2020, April 30) Department of Public Health official says COVID-19 spikes, waves remain possibilities. The Daily Tribune News.
 (2020, April 25) 4:00 p.m. WSB-TV Newscast
(2020, April 2) Governor Kemp issues shelter in place order. https://gov.georgia.gov/press-releases/2020-04-02/governor-kemp-issues-shelter-place-order