The big bank robbery in Cartersville this past week reminded me of something that happened in Bartow County back on February 3, 1904. No, not another bank robbery. On that day, a baby was born near Adairsville to Walter and Mamie Floyd. They named him Charles Arthur. Later he would be known as "Pretty Boy" Floyd, one of the most famous bank robbers in the nation. He is usually associated with the Midwest, especially Oklahoma, but he got his start right here.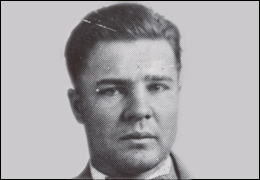 Ora Bradley, wife of Dr. Richard Bradley, mentioned Floyd's birth in her memoirs, titled The Country Doctor's Wife (1940). "The doctor brought more than five thousand babies into the world," she wrote. "Pretty Boy Floyd, that young western desperado, was among the number. Pretty Boy had good, law-abiding parents and grandparents. He was born seven miles east of Adairsville.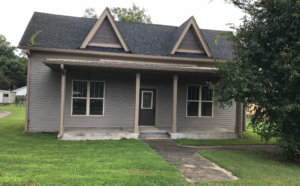 He was a fine, pretty baby, weighing ten pounds. His beauty must have stayed with him through life, as he was nationally known as Pretty Boy Floyd for whom G men had a long hard hunt."
When young Charles was about seven years old, his family moved to Oklahoma, where they were tenant farmers. Charles picked cotton with the rest of the family, and occasionally got into trouble–fights, petty thefts, little at first to suggest his later place in the annals of American crime.
In 1925 Floyd and a friend went to Missouri and Arkansas, where they robbed several service stations and grocery stores–small-time stuff, bringing in only a few hundred dollars. His first big robbery came on Sept. 11, 1925, when he held up a Kroger payroll delivery truck in St. Louis and made off with almost $12,000. Floyd and his accomplices might have gotten away with it had they not gotten cocky and bought a new car with part of the loot. He was arrested, and a local newspaper described him as "a mere boy–a pretty boy with apple cheeks." He was known as "Pretty Boy Floyd," a name he hated, for the rest of his life.
Floyd spent three years in the Missouri State Penitentiary for the Kroger robbery. Released early in 1929, he tried to stay on the straight and narrow, but having had a taste of the outlaw's life, he found he couldn't.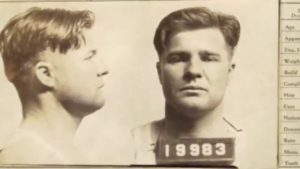 By early 1930, he was on the road, beginning a string of bank robberies that would ultimately number between 15 and 20.
He usually managed to stay one step ahead of the law. He was arrested once in 1930, tried and sentenced to a dozen years in prison, but while being transported to the prison, he escaped by jumping out the window of the moving train.
By 1931, Pretty Boy Floyd was not only developing the reputation of one of the nation's most prolific bank robbers, he was acquiring a certain amount of celebrity as "the Robin Hood of Oklahoma." When he was in a bank's vault, he destroyed mortgage records, hoping that local farmers, hit hard by the Depression, might thus be able to escape years of oppressive debt to the bank. Sometimes he gave money away to poor farmers he met, and on at least one occasion he was said to have thrown coins out along the street as he made a getaway.
"There is much to support the picture of Floyd as a modern-day Robin Hood," wrote Vivian Brown, a journalist who had the chance to interview Pretty Boy a few months before his death. "Like the famed marauder of the English forests, he took money from those who had it–the banks–and divided the proceeds of his raids with the poor. The penniless tenant farmers kept their mouths shut, they had no scruples about taking contraband wrested from bankers." This was the image Woody Guthrie portrayed in his "Ballad of Pretty Boy Floyd," written in 1939, five years after the FBI finally caught up with him and ended his criminal career and his life in an Ohio field:
The outlaw found a welcome at many a farmer's door
Yes, there's many a starving farmer, the same story told
How the outlaw paid their mortgage and saved their little home
Others tell about a stranger who came to beg a meal
And underneath the napkin left a thousand dollar bill.
Charles "Pretty Boy" Floyd: bank robber, Robin Hood–Bartow County native.