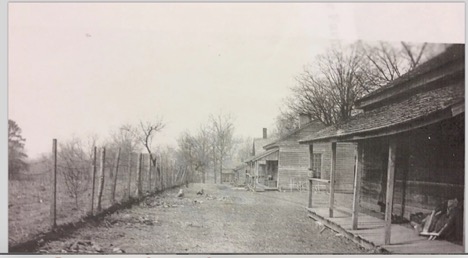 According to the January 1994 Etowah Valley Historical Society newsletter a mention is noted that the Bartow County Pauper Farm or Poor House was built by Eugene Smith a prominent contractor who constructed a number of period homes and businesses. Some of his constructions included: The Mary Momfort Library, former C&S Bank, Cherokee Street High School Gym and perhaps his most legendary was the lower level addition of Rev. Sam Jones' Roselawn home.
The Pauper Farm (predecessor to the Hickory Log School) may have been originally established in the late 1860's and later relocated and updated about 1930 as a county refuge for the indigent, destitute, sickly, mentally challenged and elderly. It served orphans, men, women, black and white. A news article in the January 7, 1869 Cartersville Express reports that the former farm owned by Sheriff, Col. W. W. Rich was purchased to build a Poor House on the Tennessee Road. A deed research found in book R pages 361 and 362 evidence of a sale between W. W. Rich and Bartow County for approximately 328 acres on theTennessee Road for $3200.00. The deed noted the land would be used by Bartow County. However, the deed was not filed until 1872.
The facility consisted of a number of stark wooden frame row houses that were built side by side. The physically able were expected to work in the fields. A nearby open cut ore mine was also named the Pauper Mine. Mineral rights on the property were reserved by several ore companies. According to the March 11, 1875 Standard and Express Newspaper a Grand Jury review found the Poor Farm to be in good condition housing 19 inmates and listed an accounting of the farms agricultural production ( bushels of corn, potatoes, wheat and other crops. Costs to operate the farm were compared to previous years and books were determined to be in good order. Ads found in newspapers reveal that the county invited bids periodically from interested parties to manage the property. The Grand Jury authorized legal ads in the Cartersville American newspaper between 1882 and 1886 offering to sell the property to the highest bidder so it could be relocated to a more suitable site. Similar ads appear again in the Bartow Tribune to sell the Pauper Farm in 1914.
Eventually a cemetery was established for the farm becoming part of the facility. It is now partitioned from the school, but remains located adjacent to the Toyo Tire Manufacturing plant and under private ownership. ( http://gabartow.org/Pauper/pauper.Records.shtml )
While difficult to accurately track deed activity a 1930 deed record found in Deed Book 67, page 370 reflects a transaction for $500.00 between Lena and Florra Dysart and Bartow County for 2.99 acres that may have anchored the County Farm. The 2020 county tax digest list this property and this deed as that now located at 3680 Highway 411 east of the railroad and highway. Related documents found in deed book 67 pages 519, 520 and Plat Book 4, page 103 add further deed history that mention a two acre cemetery and acreage in the 22 District on lots 215 and 216. The plat identifies the property as that of the "Bartow County Home" in 1962. Deed records found in Book 67, page 520 describes a sale of 300 acres to J. E. Lavino and Co for $29,500. Deed language implies that the seller was in need to divest the county from the dilapidated property and buildings, except for 29 acres.
Further research discovered in the 1930 September official Minutes of the Bartow County Commissioner's Office also revealed approval of the above transaction to sell the 300 acre tract of land that references the County Farm. A caveat was included to reserve 28 acres from the sale and remain in the County's possession. Documentation suggests that the Poor Farm existed as early as 1867 and structures were in bad shape and of no further interest to the County by 1930. GenWeb records include a list of residents or inmates housed at the Poor Farm from 1867 to 1930. Various information includes date of residence, receipts for supplies, race, health conditions, gender, age, small pox patients, death and burial costs. An article appeared in the Atlanta Journal Constitution on February 2, 1910 that drew attention to the deplorable conditions that existed at the Pauper Farm citing funding discrepancies and ill treatment. Ladies of the Home Mission Board addressed the Grand Jury and requested that the facility be decommissioned and a new one built.
Sarah Munn of the Cartersville First Presbyterian Church was a champion for local missions. She established a Sunday School Program at the former Chain Gang Hill camp located on highway 113 in the late 1940's. Sarah and her husband Al's son Rey had Down Syndrome resulting in an intellectual disability. Sarah and Al worked tirelessly to create community services and opportunities for children with disabilities and were inspired to help establish the Hickory Log School. In her obituary she requested for donations to be made to Hickory Log in lieu of flowers.
Al and Sarah led efforts to establish Hickory Log Vocational School for adults with intellectual disabilities, and were aided by a dedicated group of parents with a similar vision. Prior to the passage of PL 94-142 in 1975 special education services were not required to be provided by public schools. However, inspired by the civil rights movement of the 1960's many parents of children with disabilities formed advocacy groups such as the ARC (Association of Retarded Children, now only referred to as the Arc and not an acronym, see https://thearc.org/about-us/history/#:~:text=Parent%20groups%20throughout%20the%20country,on%20intellectual%20and%20developmental%20disabilities.). An article dated November 13, 1969 published in the Herald-Tribune shows a picture of the ribbon cutting for the newly established Hickory Log Vocational School with the title "Old folks home becomes young folks home". The caption describes then Bartow Commissioner Wayne Self with Al Munn, chairman of the school committee, alongside Bealah Davis, president of the local chapter of Retarded Children's Association.
Officially opened in 1970 at 3680 off highway 411 in White, Georgia today's Hickory Log Vocational School has transformed from a county Pauper's farm to a vital non – profit personal care home for men with developmental disabilities. Today's facility is an impressive county owned brick structure of about 9800 square feet on 23 acres. In 1999 Bartow County and Hickory Log received a Community Block Grant for a new building to replace the original 1930 Hickory Log Building. In 2002 Hickory Log was licensed as a Personal Care Home, likely to more accurately describe the function of Hickory Log given the aging population of its clients and the fact that it was no longer declared as a vocational school. However, Hickory Log continues to have some residents to call it home for 30 or more years.
Research courtesy of the Etowah Valley Historical Society
Joe F. Head, EVHS VP
Dr. Michelle Haney, Berry College